I haven't shown my bead table in awhile.
Frankly it would scare a dead person.
I just got asked about some of my
favorite magazines and books
 for learning basic beading and wire techniques
so I thought I would share them here.
First and least expensive
would be magazines.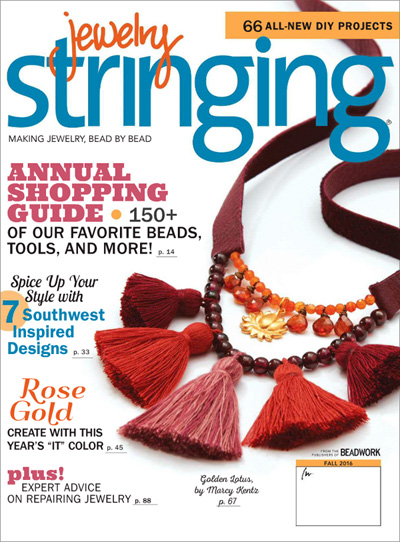 Fun for the variety of eye candy and
 basic techniques presented.
Just plain GORGEOUS.
Printed on heavy paper
Each issue is a keeper.
I have all of mine from about the
 Cretaceous Period foward....
organized by date.
Fun things for me not so
versed in wire.
A Few Good Books
Some basics for beaders
For me... a little like jewelry making porn
I could have chocolate after looking through this.
(now I am going to get spammed by a
thousand Viagra ads)
Master class - Great for different techniques!
Maybe be
a bit advanced for beginner.
You'll probably need some chocolate
after this one as well.
Fun ideas to play with!
Basics for wire findings.
Stamping basics
Gemstone stringing and
sweet eye candy.
Great for stringing, knotting pearls
and more eye candy.
One of my favorites!
Just plain gorgeous
if you love vintage and
shabby this book is stunning to look at.
Grab some Godiva.
One of my all time favorite books.
It has it all -
new techniques from metal clay,
polymer clay and resin.
Stunning hand drawn illustrations from
Cynthis Thornton.
...and a love story -
all intermingled ....
This is a book lovers book!
Another book in my favorites with a mutitude of facets
techniques including adding artifacts, soldering,
and etching - pictures to die for and
A STORY!
Another book lovers book.
Ridiculous eye candy again
Great for inspiration
and soldering tips for copper tape
 and silver gleem solder.
Not strictly a jewelry book but
invaluable in techniques
inherently transferrable to jewelry.
Hard to find but totally worth searching out!
All sorts of fun and inexpensive techniques to try
and be inspired by.
More fun stuff
to mess around with!
This is a great basics book on resin although
it doesn't cover the more recent
additions of UV resin.
Really most of Sherri Haabs books
 are full of great information
for the beginner.
Full of pretty projects!
Are you still here???
Did you make it through that list? 
Really it's hard for me not to like a book but
these are a few of my favorites that
 I go back to again and again.
Do you have a favorite jewelry book for any technique?
Please feel free to share it in the comments.
I can never have enough of them!
Happy Wednesday!!! Patty